General Information About: Picayune, Mississippi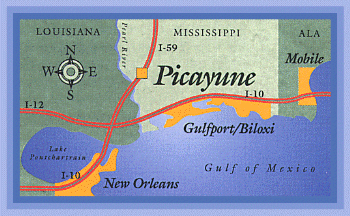 Located just 40 minutes north of New Orleans and the Mississippi Gulf Coast, the quiet streets and friendly southern atmosphere remain. Although Picayune retains the feeling of small town America, it is still a product of the twentieth century. With close proximity to New Orleans and the Gulf Coast, Picayune represents many lifestyles from farmers to rocket scientists and engineers who are employed by the nearby Stennis Space Center.
Picayune is ever changing and growing but still allows the safe feeling of quiet streets, neighbors that know each other by first names, and kids playing in front yards and parks around town. We invite you to become a part of our wonderful small town atmosphere.
Largest Employer:
One of the largest employers in the area is the above mentioned John C. Stennis Space Center. The US Navy also has a training facility located here. Many other related businesses and experimental companies also occupy space at the center. A tour is available through the entire Center, including the Space Shuttle Main Engine test complex.
Types of Housing Available:
The choice of housing varies from an established neighborhood in the city limits or a quiet setting in the country next to a lake. You may choose the country living you have always dreamed of but didn't know still existed! The rolling land and abundance of hardwood trees would make it wonderful to relax your day away under a big shade tree!
City Government:
Picayune has a Council-Manager form of city government. The mayor and five council members are elected for a four year term. This offers the opportunity for citizen participation.
Weather / Climate:
The climate in Picayune offers a mild climate with a change of seasons which allows you the year around activities ranging from hunting, fishing, swimming or gardening.
The average yearly rainfall is 61 inches

The annual average temperature is 67 degrees F.

246 days between killing frosts

Wettest month is July

Driest month is October

Average elevation is 50 feet above sea level

Temperature Averages in Fahrenheit:

| | | | | | | | | | | | | |
| --- | --- | --- | --- | --- | --- | --- | --- | --- | --- | --- | --- | --- |
| | Jan | Feb | Mar | Apr | May | Jun | Jul | Aug | Sep | Oct | Nov | Dec |
| High | 60 | 64 | 71 | 78 | 84 | 90 | 91 | 91 | 87 | 80 | 71 | 64 |
| Avg. | 48 | 51 | 59 | 66 | 73 | 79 | 81 | 81 | 76 | 67 | 58 | 51 |
| Low | 36 | 38 | 47 | 54 | 61 | 68 | 70 | 70 | 66 | 53 | 46 | 39 |


Average Precipitation in inches:

| | | | | | | | | | | | | |
| --- | --- | --- | --- | --- | --- | --- | --- | --- | --- | --- | --- | --- |
| | Jan | Feb | Mar | Apr | May | Jun | Jul | Aug | Sep | Oct | Nov | Dec |
| Amount | 5.1 | 5.7 | 6.2 | 4.7 | 4.6 | 4.5 | 6.1 | 5.6 | 5.2 | 2.7 | 4.3 | 5.8 |

Mileage from Picayune to:

| | |
| --- | --- |
| Destination | Distance |
| Gulfport Airport(GPT) | 60 |
| Biloxi, MS | 74 |
| Hattiesburg, MS | 62 |
| Houston, TX | 377 |
| Jackson, MS | 150 |
| Keesler AFB, MS | 70 |
| Mobile, AL | 129 |
| New Orleans International Airport(MSY) | 62 |
| The French Quarter & The Superdome | 50 |