Request Relocation Information Form below!
If you are considering a move, we can get you in touch with a real estate professional in just about any place on the globe, AND we will send or find someone who will send you the kind of information you may need to assist in your move.
Just about anywhere in the world you may be going, We can help!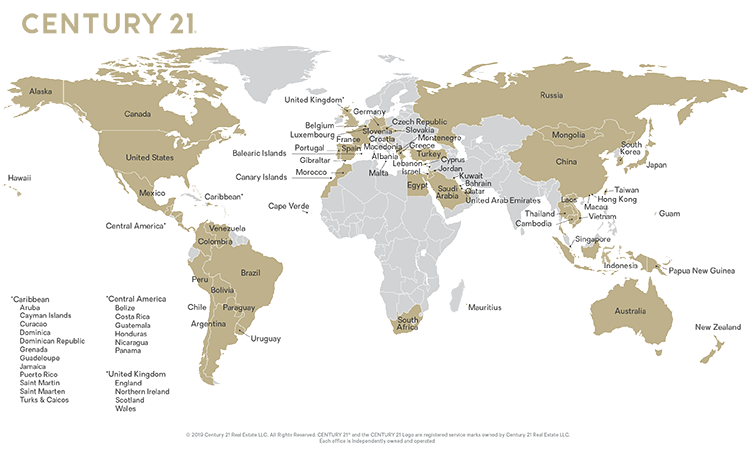 Our office is a part of the one of the world's largest real estate organizations with over 8000 franchisees and can have relocation information sent to you from anywhere in the United States and over 80 countries & territories around the globe. These include: Albania, Argentina, Aruba, Australia, Bahrain, Balearic Islands, Belgium/Benelux, Belize, Bolivia, Brazil, Cambodia, Canada, Cape Verde, Cayman Islands, Chile, China, Columbia, Costa Rica, Croatia, Curacao, Cyprus, Czech Republic, Dominica, Dominican Republic, Egypt, France, Germany, Gibraltar, Greece, Grenada, Guadeloupe, Guatemala, Honduras, Hong Kong, Indonesia, Israel, Jamaica, Japan, Jordan, Korea, Kuwait, Laos, Lebanon, Luxembourg, Macao, Malta, Mauritius, Mexico, Mongolia, Montenegro, Newfoundland, New Zealand, Nicaragua, Papua New Guinea, Panama, Paraguay, Peru, Philippines, Portugal, Puerto Rico, Qatar, Taiwan, Turkey, Turks and Caicos Islands, Thailand, United Kingdom (England, Scotland, Ireland, Northern Ireland & Wales), Uruguay, Russia, Taiwan, Saint Martin, Saint Maarten, Saudi Arabia, Singapore, Slovakia, Slovenia, Spain, South Africa, South Macedonia, Morocco, United Arab Emirates, Venezuela, Vietnam, Most of the Caribbean, and most of Central America.
We can even help you save money on your move with numerous discounts from affiliated companies (CENTURY 21 BenefitsSM) that offer these discounts to people who do business with us! As we say, "When you're number one, you can do things others can't."
FREE relocation Information when you compete the form below:
If needed, we will contact you at the email address or numbers listed on the form for any clarification we may need to assist you with your move.
If you have any questions, please feel free to call me, Eric J. Bradley, Broker at 601-799-1199 ex 201.